The Facts about our Chancery Court Case - Part 2
The Bolstering of the Bad Faith - VC Laster tries to strengthen his argument knowing that we are going to appeal again
This case got dragged out because it took our neighbors 58 days to submit their attorney fee request to the Chancery Court. By that time we had already filed an appeal with the DE Supreme Court so we wouldn't miss our 30 day window to appeal. The Supreme Court eventually (March 2013) sent the case back to Chancery Court to argue and set the fee amount.
The problem? When we went back to argue about fees VC Laster knew we were going to appeal again, so he took the opportunity to bolster the "bad faith" argument he used to stick us with our neighbor's attorney fees. He used his 7/24/13 and 8/8/13 orders to label us as bullies who used "superior financial and technological resources to bully, intimidate, and wear down" our neighbors. Nothing could be farther from the truth.
No Bully Talk in the Post-Trial Order
Bad Faith? - From #16 of the 10/24/2012 Post-Trial Order:
In his order, the Vice Chancellor says we "were advised by New Castle County and by plaintiffs' counsel that their claimed rights were contested." This statement is false.
We were never advised by New Castle County regarding 1707 having the rights to use the Triplex common areas. Prior to erecting the fence we asked permission from Dante Tiberi at NCC Dept. of Land Use and were told it was fine - no permit required for the fence. No one from the County ever told us anything about a possible easement. We first heard from the 1707 property owners in a February 2012 letter from their attorney (five months after we installed the fence).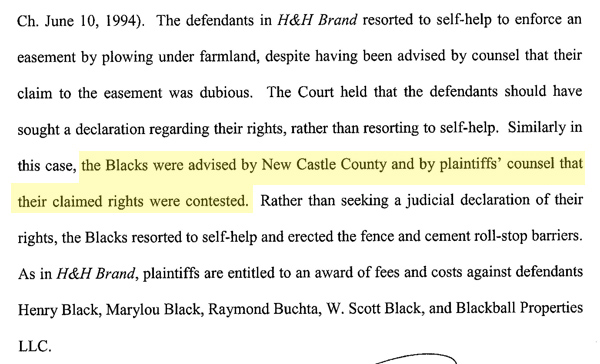 But guess what? Nowhere in the 10/24/2012 Post-Trial Order does it mention any conduct on our part that would be considered "overbearing", "harassing", or "intimidating" - an argument VC Laster uses later to claim we acted in "bad faith".
The Bolstering Begins
We get accused of harassment 9 months later in VC Laster's 7/24/2013 Order that was a response to our 7/19/13 Motion to Modify the Post-Trial Order (to change "Back Parking Area" to "Common Driveway" to match our deeds):
One of Mr. Abbott's letters accuses the plaintiffs of acting in an intimidating manner. The Court heard both sides' evidence at trial. It was abundantly clear that it is the defendants who have acted throughout this dispute in an overbearing, harassing, and intimidating manner towards the plaintiffs, including through their use of video technology to place the plaintiffs under constant 24 hour surveillance and their efforts to escalate any misstep into a legal violation. The defendants' claim of victim status is inconsistent with the record and their actions. It is not credible.
We had included the 6/25/13 letter to Mr. Wolcott with our motion. This letter asked that Mr. Staffieri remove the sailboat sail canopy that he installed behind the triplex and not to trespass on 1709 Concord Pike again.
This is the owner of 1707 Concord Pike, riding a bicycle around in circles on our 1709 parking lot just after 9pm on June 17, 2013. He has no reason to be on our property and tries to intimidate/harass us by aggressively blocking our front door. Twice. He didn't say a word when asked what he was doing and to leave the property - just stared at us:
And VC Laster says this is "not credible"! Really? How could we make this stuff up??
The Bolstering is Complete by August 2013
We had oral arguments in Chancery Court on 7/31/13 to argue about the amount of the attorney fees. A Final Order and Judgement was issued on 8/8/13. You'll note that this order is full of bolstered arguments to support the "bad faith" exception to the American Rule that was used to award fees.

There was no proof in court of us bullying, harassing, or intimidating our neighbors. We never did anything illegal – like trespass on his property, wiretap his phones, smash out his windows, leave nasty notes on his door, assault him, etc. We took some pictures when there was no expectation of privacy and our "superior technological resources" include a $300 security camera system and a copy of Microsoft Outlook so we can send emails.
At no point were any financial statements or testimony offered during this litigation. Nobody knows how much money either party had. Yet VC Laster jumped to the conclusion that we must be rich and our neighbor must be poor.
If anything the "campaign" that VC Laster has decided we ran was against the County, not our neighbors personally. You'll note we always took the highroad during this whole experience and did not post anything slanderous about our neighbors. The website & signs were only to point out that the County wasn't following their land use rules – like giving a permit to someone whose property taxes aren't paid or saying you can have a public parking spot inside a building.
So how often does a trial court judge get a second chance to rewrite their opinion before getting appealed again?
Not very often. It seems that Vice Chancellor Laster took advantage of the opportunity.
How does this affect you?
Our case sets a dangerous precedent. Smart plaintiff attorneys will have a payday.
If you call 395-5555 to complain to the County about your neighbor's property, then your neighbor can sue you. If the judge thinks you intimidated your neighbor you will have to pay their attorney fees.
If your neighborhood has deed restrictions and someone from your civic association sends a violation letter or makes a phone call that is misconstrued as being "overbearing" or "harassing" and the case ends up in Chancery Court, your association will have to pay the violator's attorney fees.